Amazon Prime Wardrobe: the new service for buying and returning clothes
Prime Wardrobe is an Amazon initiative that offers Prime subscribers the chance to try on a wide selection of women's, men's, children's, and baby clothing, shoes, and accessories at home before purchasing.
During a period of 7 days, from when the order is received, they can decide between a maximum of 6 items whether to stay and pay the amount of the garments they keep or return free of charge those they ultimately do not want.
There is still no date for it to officially arrive in Spain, but some Spanish Prime members have already received an email inviting them to try this service in beta, which has been operating in the US since 2018, so it is estimated that it will not take long a lot to reach all other Spanish customers.
The American platform also has an extra service among the features of Prime Wardrobe that we still have no news about in Spain. For an additional cost of 4.99 dollars (4.25 euros) per month, the assistance of a Personal shopper is offered, which provides the client with a personalized selection of garments tailored to her needs.
Nowadays, it is easy to buy with a click, a consumption model that does not stop growing due to innovations like these that improve and make the user experience more comfortable and join the greater inventory offer or availability of sizes online. This Amazon proposal is in line with the current reality of e-commerce, as it makes it easier for users to return items when a garment does not meet their expectations or they decide to order a couple of sizes to get closer to the right one.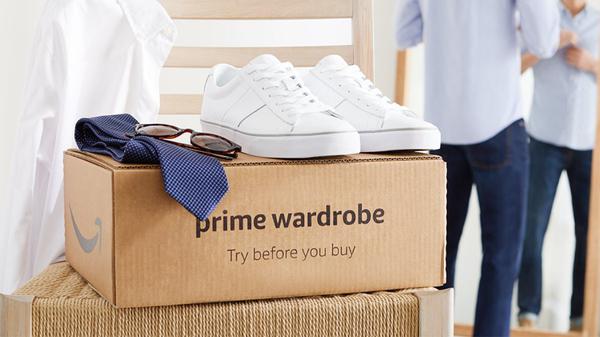 In general, returns are for online businesses a main reason for the increase in economic and time spending, but Amazon has taken advantage of this weakness in the sector to create business. Taking into account that according to a Metapack study only 28 percent of consumers are satisfied with the return options offered by online stores, this could be the recipe to increase consumer satisfaction with this practice.
The consulting firm KPMG points out that around 30 percent of textile products purchased online are returned, being the sector with the highest rate of returns. Footwear is purchased in less quantity but is returned to a greater extent, which raises its percentage of returns.
How Amazon Prime Wardrobe works
The company already explains on its Spanish website the step-by-step operation of this service:
Products that have the "prime wardrobe" icon (not to be confused with the "prime" icon) must first be added to the cart, the user will be asked to detail the shipping data and without prior payment the order will arrive after four or six business days. Once all the products of the order have been received, the 7 days begin to count during which you will have to test the products and notify which ones you will keep from the "Your orders" section.
Those products that the user finally decides to return can be put back in the Prime Wardrobe box or bag, ready to be resealed once opened, and taken to the UPS shipping center of their choice. The package label for your return will be provided by Amazon with the products.
This is not the first initiative by Amazon to mitigate the impact of returns. The company already relied on "Amazon Warehouse'' to dispose of returned products, slightly damaged during handling in the warehouse, at an even lower price but with the benefits of Amazon logistics and customer service. Although sometimes they also block customers who abuse returns to "protect the experience of all our customers", they explain on their website.